Summer is officially here in our house. My son James finished school yesterday so routine and regular sewing time is out. Luckily this year I don't have a backlog of orders from my Etsy shop, Quilts from Clothes Not sure if this is good or bad. I feel Etsy has changed over the last year or so, T-shirt quiltmaker shops have multiplied and I am getting less exposure. But happily this leaves me more time to prep for the upcoming retreat and classes I have in 2018 and 2019.
First up September 3-7th at Zephyr Point, Lake Tahoe I will be joining Artistic Alchemy as their new teacher. We will be holding our 5th annual retreat for creative sewists. Look up the retreat here, I do still have a couple of spots in my workshop and am limited to 12 students. My workshop titled Fabric Collage Addiction will give students plenty of time to work on a fabric collage project from a photograph. Feel free to contact me for more information.
This week I have started work on preparations for my classes at the International Quilt Festival in Houston in November 2018. It is quite an honor to be a teacher here and I know I have a lot of work to get ready for this event. I will be teaching 4 classes and a sampler class over 4 days. For each of the classes I will be providing kits so students can learn the technique and the complete the project at home. Its a cut and paste collage class so no sewing is required. Class sign-ups aren't released till the middle of July but the list of teachers can be found here.
This class Rocking Roosters will be November 10 8-11am and the Sunlit Sunflowers class November 9 2-5pm. As you can see these are 3 hour classes! For each of my classes I will have a choice of two patterns with all the fabric, interfacing and background fabric provided. All students need to bring are a good pair of scissors and glue.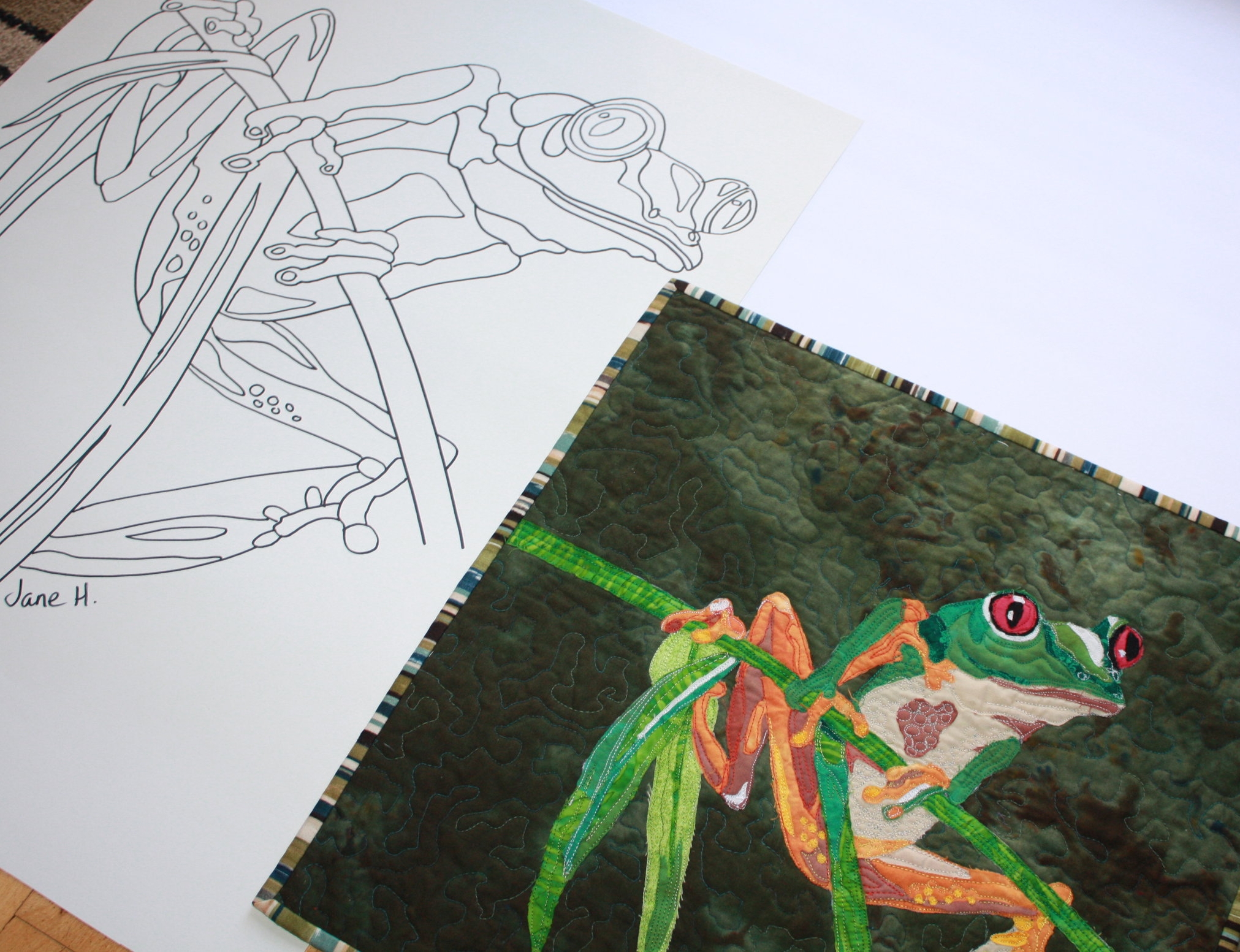 The sample photos above (hover on the picture to see more) are from my Dazzling Dogs class November 7 8-5pm, and Leaping Lizards November 8 8-5pm, both 6 hr classes. These classes again will have a choice of two slightly larger and more detailed patterns. These you will work on in class as well as learn about how to turn your own photos into patterns for collage quilts.
Heading into 2019 I will be one of the 16 teachers at Craft Napa January 2019. Registration for these classes has already opened up and I know some classes have already sold out.
The classes I will be teaching are Succulent Love January 13 9- 5pm. In this class students will explore drawing and painting succulents on paper and fabric and design patterns using succulents to make a fabric collage. I will be providing many of the materials, paints and hand-dyed fabrics to use for this workshop.
Finally the Pet Faces class on January 12 9-5pm. Student's will be working on a small pet portrait collage working from an 8 x 10' photo enlargement of their favorite pet or other loved animal photograph. We will look at how best to make enlargements, scale, color and fabric choices and hopefully students will go home with a completed, stitched pet portrait.
Craft Napa is a fun-filled inspiring few days when you are surrounded other creatives, quilters, mixed media artists and not to mention Napa Valley, wineries and wonderful shopping opportunities. Friday night is the Craft market when many of the teachers and local vendors set up tables selling glorious one-of-kind items, fabric, books etc. This is not to be missed.
I hope this post has been inspiring and if you wish to attend any of these workshops/classes with me don't hesitate to contact me for more details or share this post with a friend who might also be interested. The pool is calling as California heats up for another hot summer but maybe after I go and "fiddle with some fabric" first